Exploring Zion is a fun activity, but planning a trip there for a whole family can seem like a daunting task! Our staff at Freedom Vacation Rentals wants you to enjoy your trip here as much as possible, and not have to stress about planning, so we've compiled a list of the top family-friendly hikes in Zion for you! Whether your family is young, old, large, or small, these hikes are a great way to experience the beauty of Zion National Park for everyone involved.
1. Pa'rus Trail
Trail Length: 3.5 Miles
An easy, paved trail that runs along the Virgin River, this is the only hike in Zion that is dog-friendly. Play in the bubbling water, enjoy the wildflowers along the way and experience great views inside the park. With multiple stops along the way, this trail can be shorter if needed for your family. This is an easy, relaxing trail, making it a perfect warm-up or cool down for your trip to Zion.
2. Emerald Pools Trail
Trail Length: 1.2 Miles (round trip) to Lower Pools, 2 Miles (round trip) to Middle Pools, and 3 Miles (round trip) to Upper Pools
This three-in-one hike has the option to view one, two, or three glistening emerald pools. Start on the trail for the Lower Emerald Pool, which is a paved, stroller-friendly trail. View beautiful waterfalls and an emerald-colored pool after a short, easy walk. Follow the trail behind the falls and continue hiking up to reach the Middle Emerald Pool. This trail is steeper and longer than the lower pool trail, so it may not be suitable for all families. The final pool, The Upper Emerald Pool, is the hardest to get too, but worth the hike for adventurous families. This pool features a high waterfall cascading off of a cliff. All pools sparkle a glistening emerald green color, and the trails offer beautiful views of the park.
3. Weeping Rock Trail
Trail Length: 0.3 Miles
Short but steep, this trail is paved but may be too narrow for larger strollers. At the end of the trail is a large overhanging "weeping" rock that has dozens of small water streams trickling down it. Enjoy the cool streams of water, look at the unique moss and fern plant life, and enjoy the beautiful views of Zion this short hike offers.
4. Riverside Walk
Trail Length: 1.8 Miles
Stroller and wheelchair friendly, this paved path follows the Virgin River and is perfect for all skill levels. With shade along the way, plenty of wildlife, varied landscapes, and a spectacular waterfall at the end of the trail, this hike will not disappoint. Look out for deer, squirrels, turkeys, and birds while strolling along the river!
5. Canyon Overlook Trail
Trail Length: 1 Mile
This hike is an easy one-mile hike most kids and adults will find exciting. A favorite hike for many families, Canyon Overlook Trail is said to be one of the most breathtaking views of Zion Canyon. With only about 100 feet of elevation gain from bottom to top of the trail, you will be able to look down more than 2,200 feet into the Zion Canyon floor. Bring a pair of binoculars, as you may be able to spot a long horn sheep from across the canyon while you are looking out!
After a fun day of hiking and seeing the breathtaking views Zion National Park has to offer, make sure to check out some of the youth programs the park runs during the summer months. From the junior ranger program to an interactive nature center, there are activities the whole family will enjoy. Learn more about the programs offered and their times here.
Let us know if you and your family have tried any of these hikes, and what you thought about the beautiful views of Zion. Leave us a comment below, we always look forward to hearing from our guests!
Staying out of the heat can be a challenge during the hot summer months of southern Utah. Thankfully, the St. George area has a lot to offer so you can stay cool during your visit! Whether you are looking for a nice place to swim, a fun indoor activity for the whole family, or a cool treat to eat, St. George has you covered!
Take a Refreshing Dip
Sometimes the best way to stay cool is by spending your day in the water. These pools, lakes, and reservoirs offer a wide range of views and amenities so you can find the best fit for your day!
Our 2,000 sq ft. saltwater pool has a beach entry that is safe for children to play in, and an oversized spa for you to relax and unwind. The best part about our pool is that you don't have to leave the property to enjoy it! Head out the door and jump into our cool water in just minutes.
This stunning state park has some of the warmest waters in Utah, as well as some of the best fishing in the area. Enjoy a day in the water here, while you swim, fish, boat, or dive. The deep blue waters against a beautiful rock backdrop make a picturesque scenic view you can enjoy all day long!
Distance from Freedom Vacation Rentals: 12 Miles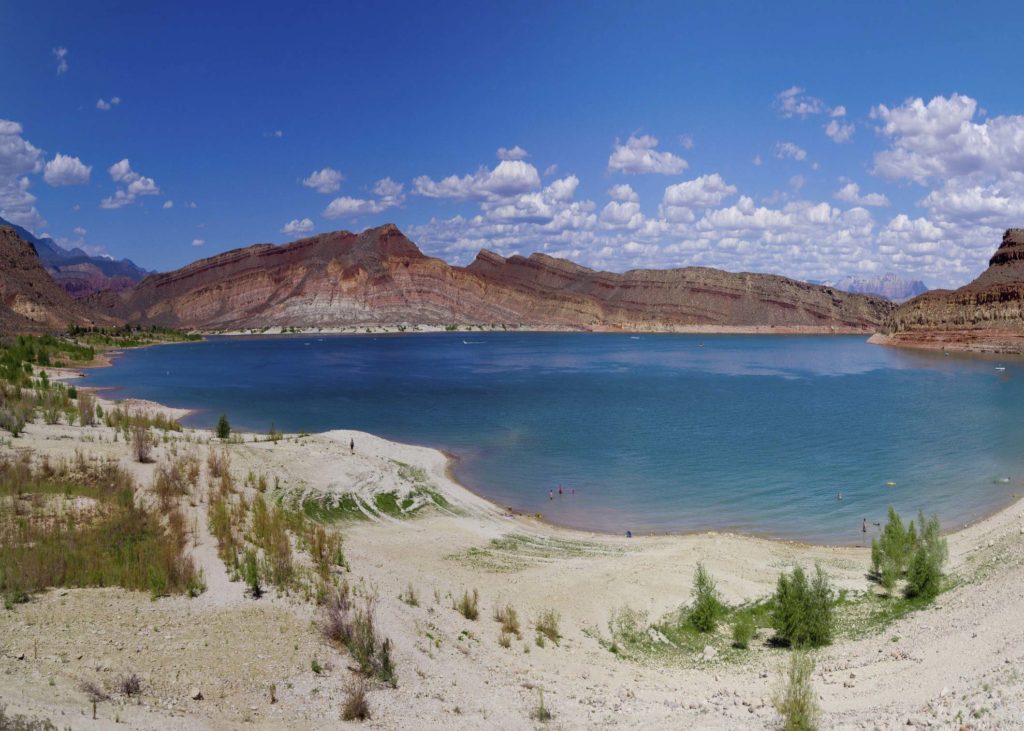 With breathtaking blue water contrasting red sandstone, Sand Hollow State Park is a beautiful place to cool off in the heat. Spend your day here laying on the beach, going for a swim, fishing, or even cliff diving. There are boats, kayaks, stand up paddleboards, and more all available for rent right on the beach, so you can stay busy all day!
Distance from Freedom Vacation Rentals: 16 Miles
Ivan's Reservoir is the oldest reservoir in the country! This stunning swimming lagoon known as Fire Lake Park is partitioned off from Ivins reservoir. The swim area is continually fed with fresh water, so the beach stays nice all year round. While you're here, enjoy some of the best bird watching in the state, have a picnic, and spend your day in the nice cool water!
Distance from Freedom Vacation Rentals: 17 Miles
Make a splash in this beautiful reservoir! If you are lucky, you may get to see the breathtaking waterfalls running during the springtime! This quiet lake is perfect for fishing, kayaking, canoeing, and swimming.
Distance from Freedom Vacation Rentals: 27 Miles
Avoid the Sun – Stay Indoors
If you aren't looking to catch more sun, the St. George area has lots of fun indoor activities to enjoy as well. From dinosaurs to laser tag, there are plenty of activities for everyone!
Visit the oldest Jurassic Dinosaur site in Utah and see real fossilized dinosaur tracks, life-size models of prehistoric animals, and learn about the 200-million-year-old ecosystem that once existed where St. George is now!
Distance from Freedom Vacation Rentals: 4 Miles
At this museum, you can view wildlife and their habitats' from every continent in the world! Listen to stories about world travel and learn about each species of animals you see. This tour will give you a great appreciation for the beautiful earth we inhabit.
Distance from Freedom Vacation Rentals: 6 Miles
Enjoy a fun day inside at the Fiesta Fun Family Fun Center in St. George. Play a game of laser tag, grab a bite to eat at the grill, try your luck in the arcade, and test out your skills at the bowling alley! They also offer outdoor activities such as mini-golf, bumper boats, go-karts, and batting cages. There are lots of fun activities for everyone to enjoy at Fiesta Fun.
Distance from Freedom Vacation Rentals: 6 Miles
Young and old can learn from this fun interactive museum. Explore an art room, a castle room, a prehistoric room and much more! Spend a day here, away from the heat, and let your imagination run wild in this fun and creative space.
Distance from Freedom Vacation Rentals: 7 Miles
Enjoy a Cool Sweet Treat
The best way to end your day in the hot summer weather is to cool off with a sweet treat! St. George has plenty of places to satisfy your sweet tooth cravings, deciding which spot to try will be the hardest decision for you!
This Utah chain offers a delicious selection of Italian ice and old fashioned custard. Choose between custard, Italian ice, or a mix of both, and with so many different flavor options, the possibilities are endless!
Distance from Freedom Vacation Rentals: 5 Miles
Frozen custard is a staple in Utah, and Nielsen's is consistently voted one of the best! This restaurant makes their own fresh custard daily in special machines they patented themselves. They claim their machines make their custard smooth and creamy. This is a treat you won't want to put down until you're finished!
Distance from Freedom Vacation Rentals: 6.5 Miles
Original to Salt Lake City, this chain can now be found across Utah, Arizona, and California. Iceberg Drive Inn is famous for their over the top thick milkshakes and is a local favorite. With a wide variety of flavors, these shakes are sure to please all. Make sure you come here with an empty stomach, as these shakes are large!
Distance from Freedom Vacation Rentals: 7 Miles
This store is a great place to enjoy some ice cream, old fashioned candy, or glass bottle soda! Judd's store is the oldest ongoing business and the longest-running family-owned business in St. George. They still use the original shelves and counters in the store, making it feel like a blast from the past when you walk in!
Distance from Freedom Vacation Rentals: 7 Miles
With all of these options to stay cool in the summer, you and your family will easily be able to plan a full day or weekend of fun! Have you been to any of these places before? Or do you have more favorites to add? We love hearing from you and are always looking for new places to explore! Leave a comment below and let us know your thoughts.
The summer is in full swing and the upcoming months are exciting with lots of activities and things to do in and around St. George. Whether you are a local or coming into town to visit, there are plenty of events going on to keep the family entertained and engaged during your next stay with Freedom Vacation Rentals. July is an action packed month with two big holidays; Independence Day(July 4th) and Pioneer Day(July 24th).
4th of July Celebration 2019 will be held at Town Square Park where there will be live music, food booths, a carnival, contests, Slip-n-Slides, a parade, 4k race, tons of games and countless memories! This fun-filled celebration will be like no other, bring the whole family and take part of a great time. The event is all day starting at 6:30 am and goes to 11:00 pm.
The following day on July 5th is Street Fest form 5:00 pm to Midnight in the heart of downtown St. George. This is another one of a kind activity for the whole family. See and shop around local arts booths, listen to bands, and choose between a wide variety of food. This is a quality event with activities and entertainment for all ages! This event takes place the first Friday of each month from March through October.
These events listed are just a few examples of the family fun to be had. Check out our online calendar to see what else is going on while you make your visit.
Freedom Vacations Rentals is sure to provide a stunning vacation rental home but as the weather in St. George gets warmer we want to remind you that there are many events for your family and friends to gather together and enjoy. Whether you are interested in an event that is inside or out in the great outdoors, St. George, Utah has a multitude of options for you to choose from. Take a look at our list of must-see events in the area as we are sure you will find an event that pleases your whole group.

Date(s): April 5th-6th
Time: 8pm
Price: Tickets range from $29-$99
Go enjoy the Professional Bull Riders as
they put on a quality show of intense bull
riding. There will be food for purchase at
the event.
Find more information here.

Date(s): April 13th
Time: 10am-7pm
Price: Free! Qualifying students earn a high-quality kite, book, or $10 voucher/ticket to be used at the Festival for their reading efforts.
The Dixie Power Kite Festival's goal is to promote reading as a habit and encourage students as well as to engage in family-oriented physical activity. Qualifying students can earn a high-quality kite or book for their reading efforts on the day of the event. Entrance to the festival is free.
Find more information here.

Date(s): April 19th-20th
Time: 10am-6pm
Price: FREE! Artwork and food will be available for purchase.
St. George has many Cultural activities which is a big part of what makes this area so desirable. The St. George Art Festival will have live music, art, activities for children shows, food and more. The City of St. George's Art Museum will feature well known local artists as well as those of national and international acclaim.
Find more information here.

Date(s): May 3rd-4th
Time: 8pm-10pm
Price: $60-$80
Jeff Foxworthy is one of the most respected and successful comedians in the country. He is the largest selling comedy-recording artist in history, a multiple Grammy Award nominee, and best selling author of more than 26 books. His act explores the humor in everyday family interactions and human nature.
Find more information here.
The events listed above are just a small sample of the many events and activities that the St. George Area has to offer you and your family on your next vacation. After booking your stay with us at Freedom Vacation Rentals be sure to ask one of our associates for more suggestions or take a look at this website for a more complete list of activities.
Freedom Vacation Rentals is here to make your reservation and vacation as easy and exciting as possible. Book with us today and experience the beauty of Southern Utah and the comfort of Freedom Village.
The Parade Of Homes is an annual showcase of several gorgeous, high-end designer homes. The designs are focused on quality, style and even affordability. Witness the innovative ideas as you dream of your new or remodeled home.
The Parade will be held from February 14-25 from 10 am to 7pm, and a general ticket is currently being sold for $15 on the Parade Of Homes or can be purchased starting February 14, at any Lin's Market in the area or at the Red Cliffs Mall in St. George. There are 30 gorgeous homes to view this year scattered all across St. George and surrounding areas. The map and route will not be released until the day of to allow contractors to finish any homes that may not be ready.
Beautiful Theater Room In Parade of Homes

Download the new St George Area Parade Of Homes app to have a personal pocket guide to enjoying this years Parade Of Homes. This gives you your own personal map and directions to all the homes, builder and home details, an idea book – allowing you to take pictures and notes and organize them easily and so much more!
Kitchen With Amazing View In Parade of HomesIf you plan on attending Parade of Homes this February in St. George, Utah and you need a place to stay; check out Freedom Vacation Rentals to ensure a quality stay in a beautiful, unique home of your own while you tour around the city. Presidents Day weekend is a busy time of year for St. George and places will be booked fast. Be sure to book your stay with Freedom Vacation and have the comfort of your own home.
With amazing scenery and amazing weather, sunny St George should be one of your top golfing destinations this fall. Plan your next weekend and rent with Freedom Vacation Rentals while you check out some of the most beautiful and nicest golf courses in the Country!
Coral Canyon Golf Course
This 7,029-yard, 72 par course is one of the most beautiful courses in St George. With the greenest fairways, bright red rock, sunshine and blue skies, you will feel like you're playing a round of golf in paradise!
Designed by architect Keith Foster, Coral Canyon Golf Course sits amidst the natural beauty of Utah, allowing you to play around natural wonders in the Utah desert.

Fairway Magazine says that, "The Coral Canyon Golf Course, just off of I-15 in Hurricane Utah at Exit 16, is one of the best courses in all of Utah golf. Coral Canyon possesses many qualities that make it a truly great golf course for players of all levels…. Perhaps the quality that separates this course from many others is the great rhythm of the design. The golf course plays like a symphony with a flow and a mix that piques your interest and enhances your enjoyment. The best compliment that golfers usually bestow upon the Coral Canyon Golf Course is that it is fun, a term used too rarely to describe modern golf."
Sand Hollow Golf Resort
On this course designed by John Fought, you'll be soaring drives over the edges of cliffs and deep canyons. Experiencing 18 holes of championship golf, a par-72 course that stretches over 7,000 yards or the walkable nine hole links style course, all alongside breathtaking red rock.
You'll never experience anything like it. According to Sand Hollow Resort, "The Championship Course's #15 recently graced the cover of Golf Week Magazine "Best Courses" edition, and was awarded Utah's "Best Public Course" for the second straight year."
Sunbrook Golf Course
This course lies right in St George, however that doesn't take away from the beauty within the course. Shooting through black lava rock from the top of the the bluffs to the desert floor, you'll get it all at this course.
According to St George Golf Trail, "Golf Digest twice rated Sunbrook Golf Course as the best golf course in Utah. This rating is a result of a number of elements including scenery, challenge, quality, and service. With the addition of the Black Rock Nine, Sunbrook is the only golf club in southwest Utah to feature 27 championship holes."
Click to visit Sunbrook Golf Club
The Ledges Golf Club
Another course with a view is The Ledges course that looks over the red rock and through the lava-rock of Snow Canyon State Park. With a picture perfect view at each hole, an upscale pro shop, Golf Academy, delicious restaurant and more. The Ledges golf course is the place to be!

According to St George Golf Trail, "The course is both innovative and challenging and the rugged, red rock terrain surrounding the course has gained it a reputation of being one of the most stunning settings for golf in the country."
Green Springs
A definite favorite among locals is the Green Springs Golf course. St George Golf trail say's "The golf course is a pleasure to play and offers an excellent test of golf, including two of the arguably best holes in all of Utah.
These two holes feature breathtaking shots over a deep red-rock canyon, with stunning backdrops of the 10,000 foot Pine Valley Mountain and views of Red Cliffs State Park Recreation Area. From top to bottom, Green Spring Golf Course is a quality golf experience and a course not to be missed on your next trip."
Rent with Freedom Vacation Rentals today to add another deluxe and beautiful experience to your St. George golf extravaganza!
The winter months in Utah can be exciting and marvelous. From world class ski resorts featuring "the greatest snow on Earth", to the Sundance Film Festival. You can find people from all around the world getting a taste of what Utah has to offer when the cold front blows in. Although the winter can be enjoyable, there will come a time where you will need to defrost your mind and body by escaping the cold.
When the cold and smog becomes too much to handle, St. George is a close destination to escape to. St. George offers a wide variety of activities both indoor and outdoor for all ages that will allow you to enjoy a little bit of sun and not be so cold.
Freedom Vacation Rentals makes your getaway in St. George smooth and easy. Experience the beauty of Southern Utah and the comfort of Freedom Village. Apart from: sport parks, national parks, recreation areas, golf courses and plenty of dining and shopping options, Freedom Village offers a 2000 sq ft. pool for you to enjoy while taking in the sun.
Rent from a variety of options to best fit your needs. We have enough room for small groups or large families. When you rent through us, we assure that you will feel as if you are in the comfort of your own home. Check out our newly built facilities and features. Whether you are visiting for a family vacation, sports tournament, or simply just want to escape the cold, Freedom Vacation Rentals has the accommodations that you need. Give us a call or book your next trip on our website.
St. George has been growing in recent years and it's not just within the retirement community. More and more young families are moving in, changing the city's demographic and creating new needs in response to that growth, the city has made it a priority to meet those needs, including making more family friendly activities available to the public. Here's a list of our top five below to give you some ideas of what to do with your family during your St. George vacation.
Fiesta Family Fun Center – The hub for all things entertaining, Fiesta Fun offers a variety of activities that the whole family can enjoy. From mini golf, bowling, and arcade games, to laser tag, go-karts, and water boats, you and your kids will have a blast. Grab some grub at the Barre Grill to satisfy any snacking moods as well.
Pioneer Park – St. George is known for its convenient location to some of the best hiking in the state. Besides the national parks, there are some pretty fun hikes to do right in town as well. Pioneer Park is located at the top of Red Hills Parkway and offers some of the best views of the entire town. The sandstone hills are fun to romp around, including the famous Dixie Rock that overlooks the city. Crawl through the "Narrows" or discover an old home in the outcropping of a cave. This geographic wonderland never grows old and is the perfect place for kids to run around.
Washington City  Community Center – The community recreation center is a gem in the city of Washington. With a large pool system, including playground and slide, the aquatic center offers a splash of fun for the kids on a hot Southern Utah day.
Snow Canyon State Park – For those looking for unforgettable hiking experiences but shy away from the crowds of Zion, Snow Canyon State Park is an amazing alternative. Just outside the city limits, these beautiful red and white sandstone canyons offer stunning hikes and an alien landscape to roam through. A favorite among visitors are the red sand dunes in the middle of the park. Take the kids out for a sandy adventure in this lesser known, but just as incredible, state park.
St. George Bike Trail System – One of the many unique features of St. George are the paved bike trails that range throughout the city. The network of trails lead to convenient places and offer different views of St. George not seen from the streets. Rent out a few bikes, grab a snack and water, then set out on the trails for family fun!
When visiting Southern Utah, there are so many beautiful places to see and outdoor activities you can participate in. Hiking is most commonly the first thought people have when thinking of outdoor activities; and lucky for you, Southern Utah is filled with some incredible national parks to go adventuring in! One of the most popular destinations in Southern Utah is Zion National Park. Here are some reasons you should visit this national park:
Zion National Park is one of the most popular national parks all around the world. To speak to its popularity, The Guardian recently came out with a list of the top 22 national parks to visit in the US, of which Zion National Park was in this list of 22 parks selected by experts. Zion is known worldwide and people come from all over to visit it's beautiful red vistas.
When speaking about the grounds inside of the park, the places you can explore are endless. Zion is separated into three different ecosystems. It is home to over 900 different species of plants and over 400 different animal species. The wildlife in the park varies from the Desert Tortoise to the Desert Bighorn Sheep and many, many others. The park encompasses approximately 232 square miles of land which offers many different types of scenery and locations to see. With the plethora of trails that you can adventure on and animal species you probably have never seen before, the park provides you with new things to explore on every visit.
Probably the biggest reason you will visit a national park is to go hiking and be outside. Zion is no stranger to hikers, having a variety of trails to provide any level of hiker a fun experience. Here is a list of the top trails in Zion:
Emerald Pools Trail
Emerald Pools is a popular trail in Zion. This is a short and easy hike that you can take your family on. This trail is great for people looking to take their time and enjoy the scenery. This hike consists of short trails that pass by different pools and streams. One of the most beautiful trails you can partake in that will have you pass by all sorts of wildlife that Zion offers.
Angels Landing
Angels Landing is possibly the most popular trail in Zion. If you are looking for a trail to push yourself, this is definitely the hike you should go on. When coming across to the top of the hike, Angels Landing offers a stunning view of the landscape. Having an overview of the park is an awesome sight and definitely recommended for those willing to try.
The Narrows
For those who are alright with getting a little wet, The Narrows is perfect for you. This hike will take you through the Virgin River. You will be able to explore the canyons and see some extraordinary sights.
Zion National Park offers so much and would be a perfect destination when visiting Southern Utah. The views offered are breathtaking and will leave you with an experience to remember. If you are looking for a place to stay, Freedom Village is the place for you. We are conveniently located in St George, UT and are located just 39 miles from the national park. We offer the best quality homes to ensure you have the greatest experience possible. Give us a call at 435-229-5649 for more information today!