Staying out of the heat can be a challenge during the hot summer months of southern Utah. Thankfully, the St. George area has a lot to offer so you can stay cool during your visit! Whether you are looking for a nice place to swim, a fun indoor activity for the whole family, or a cool treat to eat, St. George has you covered!
Take a Refreshing Dip
Sometimes the best way to stay cool is by spending your day in the water. These pools, lakes, and reservoirs offer a wide range of views and amenities so you can find the best fit for your day!
Our 2,000 sq ft. saltwater pool has a beach entry that is safe for children to play in, and an oversized spa for you to relax and unwind. The best part about our pool is that you don't have to leave the property to enjoy it! Head out the door and jump into our cool water in just minutes.
This stunning state park has some of the warmest waters in Utah, as well as some of the best fishing in the area. Enjoy a day in the water here, while you swim, fish, boat, or dive. The deep blue waters against a beautiful rock backdrop make a picturesque scenic view you can enjoy all day long!
Distance from Freedom Vacation Rentals: 12 Miles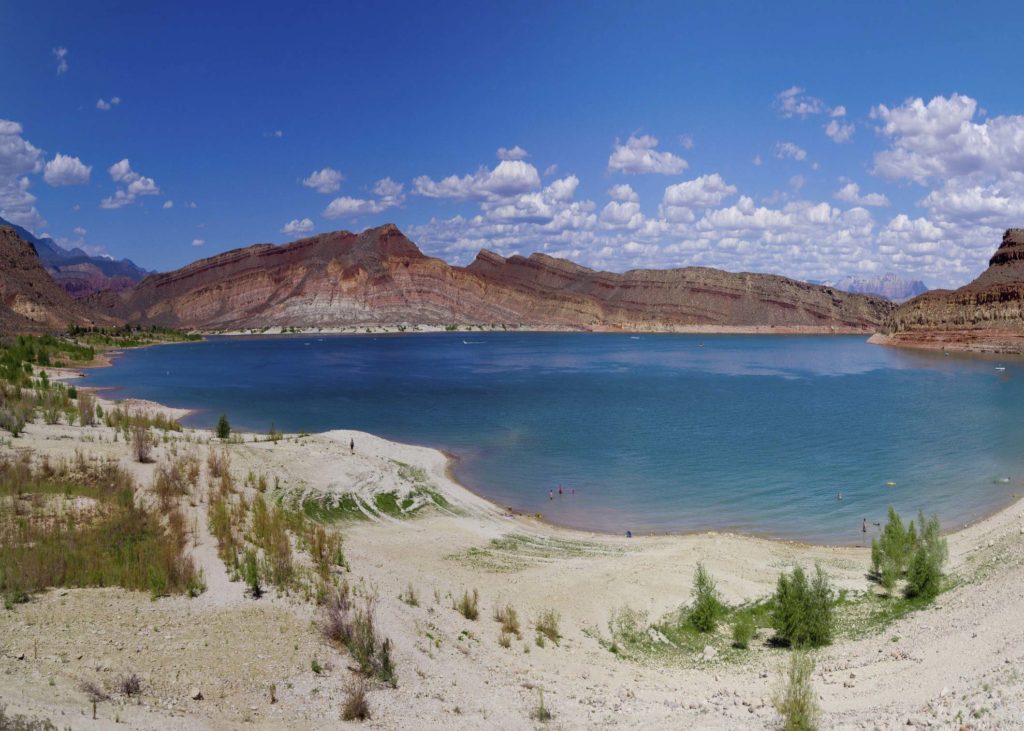 With breathtaking blue water contrasting red sandstone, Sand Hollow State Park is a beautiful place to cool off in the heat. Spend your day here laying on the beach, going for a swim, fishing, or even cliff diving. There are boats, kayaks, stand up paddleboards, and more all available for rent right on the beach, so you can stay busy all day!
Distance from Freedom Vacation Rentals: 16 Miles
Ivan's Reservoir is the oldest reservoir in the country! This stunning swimming lagoon known as Fire Lake Park is partitioned off from Ivins reservoir. The swim area is continually fed with fresh water, so the beach stays nice all year round. While you're here, enjoy some of the best bird watching in the state, have a picnic, and spend your day in the nice cool water!
Distance from Freedom Vacation Rentals: 17 Miles
Make a splash in this beautiful reservoir! If you are lucky, you may get to see the breathtaking waterfalls running during the springtime! This quiet lake is perfect for fishing, kayaking, canoeing, and swimming.
Distance from Freedom Vacation Rentals: 27 Miles
Avoid the Sun – Stay Indoors
If you aren't looking to catch more sun, the St. George area has lots of fun indoor activities to enjoy as well. From dinosaurs to laser tag, there are plenty of activities for everyone!
Visit the oldest Jurassic Dinosaur site in Utah and see real fossilized dinosaur tracks, life-size models of prehistoric animals, and learn about the 200-million-year-old ecosystem that once existed where St. George is now!
Distance from Freedom Vacation Rentals: 4 Miles
At this museum, you can view wildlife and their habitats' from every continent in the world! Listen to stories about world travel and learn about each species of animals you see. This tour will give you a great appreciation for the beautiful earth we inhabit.
Distance from Freedom Vacation Rentals: 6 Miles
Enjoy a fun day inside at the Fiesta Fun Family Fun Center in St. George. Play a game of laser tag, grab a bite to eat at the grill, try your luck in the arcade, and test out your skills at the bowling alley! They also offer outdoor activities such as mini-golf, bumper boats, go-karts, and batting cages. There are lots of fun activities for everyone to enjoy at Fiesta Fun.
Distance from Freedom Vacation Rentals: 6 Miles
Young and old can learn from this fun interactive museum. Explore an art room, a castle room, a prehistoric room and much more! Spend a day here, away from the heat, and let your imagination run wild in this fun and creative space.
Distance from Freedom Vacation Rentals: 7 Miles
Enjoy a Cool Sweet Treat
The best way to end your day in the hot summer weather is to cool off with a sweet treat! St. George has plenty of places to satisfy your sweet tooth cravings, deciding which spot to try will be the hardest decision for you!
This Utah chain offers a delicious selection of Italian ice and old fashioned custard. Choose between custard, Italian ice, or a mix of both, and with so many different flavor options, the possibilities are endless!
Distance from Freedom Vacation Rentals: 5 Miles
Frozen custard is a staple in Utah, and Nielsen's is consistently voted one of the best! This restaurant makes their own fresh custard daily in special machines they patented themselves. They claim their machines make their custard smooth and creamy. This is a treat you won't want to put down until you're finished!
Distance from Freedom Vacation Rentals: 6.5 Miles
Original to Salt Lake City, this chain can now be found across Utah, Arizona, and California. Iceberg Drive Inn is famous for their over the top thick milkshakes and is a local favorite. With a wide variety of flavors, these shakes are sure to please all. Make sure you come here with an empty stomach, as these shakes are large!
Distance from Freedom Vacation Rentals: 7 Miles
This store is a great place to enjoy some ice cream, old fashioned candy, or glass bottle soda! Judd's store is the oldest ongoing business and the longest-running family-owned business in St. George. They still use the original shelves and counters in the store, making it feel like a blast from the past when you walk in!
Distance from Freedom Vacation Rentals: 7 Miles
With all of these options to stay cool in the summer, you and your family will easily be able to plan a full day or weekend of fun! Have you been to any of these places before? Or do you have more favorites to add? We love hearing from you and are always looking for new places to explore! Leave a comment below and let us know your thoughts.